As part of a groundbreaking research effort, FP Analytics and the U.S. African Development Foundation are spotlighting pioneers in agriculture, off-grid energy, and youth and women entrepreneurship. These stories highlight how African enterprises are innovating in the face of COVID-19 and contributing to local growth and stability in fragile areas of the Great Lakes, Horn and Sahel regions of Africa. Hear more from USADF, investors, and USADF-supported entrepreneurs from across the continent by tuning into FP's recent Virtual Dialogue, Profiles of Resilience.
Kenya
Francis Mihiu
Ndumberi Dairy Farmers Co-operative Society Ltd.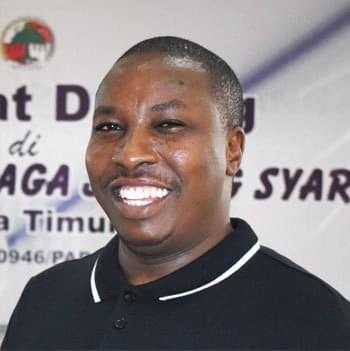 Improving the Livelihoods of Peri-Urban Farmers
In Kenya, agriculture has long been the dominant industry. More than 40% of the population work in agriculture, including 70% of rural dwellers, and it directly and indirectly accounts for more than half of the country's annual GDP. Still, food security among many Kenyans remains tenuous, with 36% of Kenya's 54 million residents chronically food insecure. Land scarcity and an expanding population, which is expected to top 80 million over the next two decades, exacerbate the issue. But Ndumberi Dairy Farmers Co-operative Society Ltd., a small cooperative of just 1,054 members, each of whom raise up to five cows on small parcels of peri-urban land on the edge of Nairobi, shows how Kenyan farmers can improve food security and increase their incomes without harming the land.
When Ndumberi was founded in 1963, it joined a thriving agricultural cooperative movement, one that was vital to Kenya's post-independence economy and led by example in poverty reduction and providing key social services. While many large-scale operations proved uncompetitive as the Kenya's market opened up, Ndumberi is one of the few that has survived, continuing to operate nimbly with its committed membership and focus on value-added, small-scale production. With land scarce and recognizing the limitations of selling milk to only middlemen, Francis Mihiu sought to integrate operations and move up the value chain. Using a grant from the United States African Development Foundation (USADF) awarded in 2019, in the course of one year, Mihiu expanded Ndumberi's operations to include pasteurization, yogurt-making, and the processing and selling of bulk milk. Before the pandemic, Ndumberi produced and sold 15,000 liters of milk per day, on average, of which 1,000 liters was pasteurized and 2,000 liters more was turned into yogurt, which can be sold at a higher price. Cutting out middlemen entirely, processing milk directly, and transporting it to market in new refrigerated trucks also increased revenue. Mihiu estimates that these changes have increased farmers' incomes by more than 25%, and he anticipates the next phase of the cooperative's expansion will boost them even further.
While the coronavirus pandemic has, unfortunately, hit the cooperative hard, Mihiu has used this experience to identify opportunities for expansion that will protect the organization from future shocks. Milk production has dropped by 4,000 liters per day because of the coronavirus and lingering effects of a 2019 outbreak of foot-and-mouth disease and import restrictions on the cooperative's preferred fodder. Some members have been forced to quit farming entirely. Much of that milk wastes before it can be sold because of government-imposed curfews and constraints on market trading that limit sales opportunities. However, looking forward, Mihiu plans to expand into long-life boxed ultra-high-temperature milk processing to create a product that keeps for up to nine months, and also plans to start packaging the cooperative's dairy products in-house. These modifications will enable a long shelf life for Ndumberi products, offer greater sales flexibility amid travel restrictions, and allow the cooperative to sell products directly for the milk-vending machines that rural Kenyans in remote areas rely on. Mihiu's ingenuity and resourcefulness are enabling Ndumberi to continue contributing to Kenya's food security during the pandemic and beyond.
Mauritania
Ould Lebatt
Compagnie Générale des Energies Renouvelables (COGER)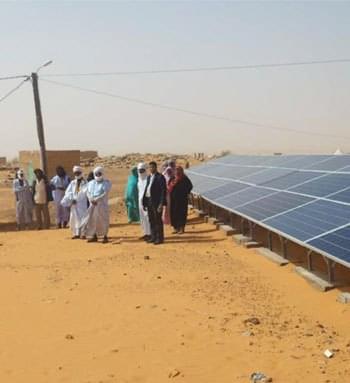 A Trailblazer in Mauritania's Solar Energy Industry
When Ould Lebatt founded Compagnie Générale des Energies Renouvelables (COGER) in 2001, he was one of the first people in Mauritania to recognize that the country's need for affordable, reliable energy could be met with solar power. Mauritania is ideally located for renewable energy generation because it is sparsely populated and almost entirely desert—just 0.5% of its land is arable. With just 22% of Mauritanians having energy access at the time, Lebatt was among the first in the country to realize solar energy's potential. Since then, the company has supplied an estimated 2.5 MW of solar energy to urban dwellers and trained more than 80 solar technicians—helping to expand the energy access and the country's clean energy economy, and contributing to more than 40% of Mauritanians having access to electricity today.
While urban access to electricity has been expanding with COGER's help, today just 2.3% of Mauritania's rural population is connected to the grid. The major access gap has turned Lebatt's attention to increasing energy access in rural areas. With the support of a United States African Development Foundation (USADF) grant, in 2019, Lebatt undertook a large-scale off-grid solar project in Acharim, a village about 700 km from the capital city of Nouakchott, home to about 750 people. In addition to power, COGER also supplied each home and business with solar lamps, water pumps, and power outlets. The project has been a success, significantly improving the standard of living in the village and increasing livelihoods and incomes. Farmers have improved their irrigation methods and are able to preserve their produce, enabling them to reach new and distant markets. Shop owners have installed refrigerators, increasing their sales revenue, and children can now study after sunset.
While continuing to provide essential services, COGER has become even more critical during the pandemic. With the help of an emergency CARES grant from USADF, the company recently extended solar energy access to a rural hospital near Acharim. Access to reliable solar energy helps the hospital to improve health care and save lives during the pandemic and beyond. Lebatt is eager to replicate this project's success by powering more hospitals across Mauritania. He sees it as an opportunity for business growth and income generation that will also contribute to Mauritania's development and health goals.
Recognizing the myriad socioeconomic benefits, the Mauritanian government has made increasing energy access a key development priority. It is working to align its policies with the U.N. Sustainable Development Goals, which link energy access to poverty reduction, violence reduction, and greater health and educational attainment. Lebatt and his work with COGER show the crucial role that off-grid renewable energy and local businesses are playing in achieving these goals. However, small businesses can often do this kind of transformative work—and scale—only with technical support and access to working capital such as that provided through USADF. This type of grassroots business support could provide a model for the Mauritanian government to replicate in its support of off-grid energy companies, which will remain essential for Mauritania during and well after the pandemic.
Democratic Republic of Congo
Gilbert Makele
Cooperative des Planteurs et Negociants de Café au Kivu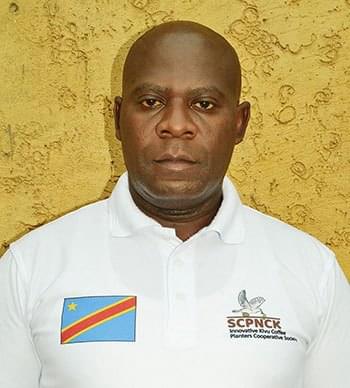 The Coffee Cooperative Offering a Gainful Start to Former Child Soldiers
Idjwi island, sitting in Lake Kivu on the border of the Democratic Republic of Congo (DRC) and Rwanda, has been a coffee-growing community for decades, but until recently, development was prevented by the ongoing civil unrest in the DRC. The island was plagued by violence as it became a popular retreat for Congolese rebels, Tutsi refugees from Rwanda, and Hutu fighters who used it as a base from which to conduct raids across the border. Because of the unrest and a lack of formal markets in the DRC, coffee growers on the island could sell their produce only by smuggling it across the lake into Rwanda, a dangerous enterprise that resulted in deaths and undercut farmers' incomes because their vulnerability left them unable to negotiate.
To Gilbert Makelele, a resident of the island, it was clear that the coffee farmers needed to establish a business model that could reduce casualties, secure higher prices for their produce, and develop the economy of the island. To that end, in 2012, Makelele established Cooperative des Planteurs et Negociants de Café au Kivu (CPNCK)—a cooperative business structure enabling the farmers to collectively bargain for better prices and access lines of credit and other support that had previously been out of reach because of high interest rates. Taking a novel approach, CPNCK began to offer interest-free loans from a revolving credit fund—bolstered by a combination of grants and membership fees—enabling members to buy agricultural inputs such as fertilizers, other crops including soybeans, and goats for pastoralism. Since being established in 2012, CPNCK has grown to 2,388 members—including 433 women, many of whom are the widows of coffee growers who died while smuggling.
After establishing itself through considerable adversity, CPNCK in 2018 won a capacity-building grant from USADF, which has enabled the cooperative to commercialize its operations by taking over more of the value chain. In addition to growing the coffee beans, CPNCK now also washes, dries, and packages the coffee, which increases its quality and makes it more attractive to commercial buyers. The next year, as a result of integrating and strengthening the value chain, and training farmers in more efficient and sustainable agricultural practices, CPNCK sold more than 96,000 kilos of coffee internationally, and has supplied brands in the USA and Europe, including Starbucks. To Makelele, USADF's direct funding of African businesses, rather than charities or other non-governmental organizations, has transformed economic development and growth within the DRC.
Economic development and opportunity are key drivers of peace in the DRC and the wider African Great Lakes region, according to Makelele, who sees his work as directly linked to peacebuilding. CPNCK employs more than 250 ex-combatant members, former rebels, and child soldiers who fought with insurgent groups. Many, particularly the child soldiers, came to Idjwi after being rejected by their home communities, which view them as irredeemable criminals. Makelele believes that this is the wrong way to bring peace to the DRC after so many years of fighting. Rather, ex-combatants need to have access to reliable work and a steady income, so that they no longer need to fight to earn a living, can have more stable lives, and can become good citizens and community members. He has witnessed the transformation of young people's lives since he founded the cooperative, with many ex-combatants taking on leadership roles in the cooperative. In addition, Makelele has found that women's equal participation as members of the cooperative provides them with the income and economic power to lead and influence their community. After many years of violence and instability, Idjwi island is now peaceful and trying to become an ecotourist destination. As part of this effort, CPNCK has begun offering tours of its farms and processing sites to visitors.
The coronavirus pandemic has harmed the cooperative: Input prices have risen because of import restrictions, making coffee growing more expensive and reducing profit margins. Fulfilling already agreed-upon contracts also have been delayed because of travel restrictions and border closures. However, Makelele and the rest of CPNCK are taking this time to reassess their goals and are moving ahead with plans. They have expanded their activities once again to include coffee roasting, integrating another part of the value chain into their business. And they have ambitious plans to promote coffee drinking within the DRC in hopes that their business can supply growing demand in their home country as well.
Kenya
Hope Mwanake
Eco Blocks + Tiles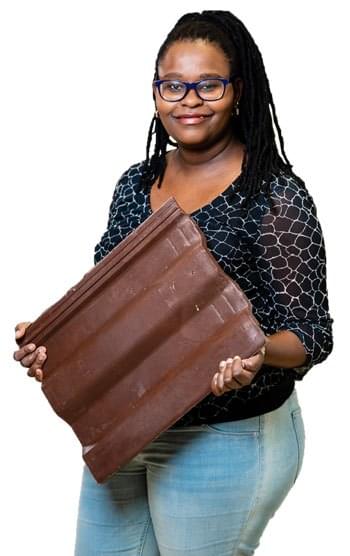 Pioneering the Circular Economy in Kenya
Facing mounting waste and associated health problems throughout her community, in 2011, Hope Mwanake knew she had to take action. Her hometown of Gilgil, a coastal community about a three-hour drive from Nairobi, was being buried in trash, with no formal waste management system and no publicly administered dump. Driven by concern for her community, Mwanake formed a waste-picking collective to tackle one of Kenya's most pressing problems: the annual accumulation of about 3 million tonnes of plastic waste, of which only 8% is recycled. Beyond the environment's urgent need for plastic recycling, Mwanake recognized it as a market and business opportunity. So, in 2016, she created Eco Blocks + Tiles, an innovative social enterprise manufacturing high-quality roof tiles from recycled plastic waste.
With an initial grant from USADF and ample waste resources, Mwanake quickly moved from her first prototype and machinery investment to scaling her circular enterprise. In just two years, Eco Blocks + Tiles recycled more than 220 tonnes of plastic, sold over 200,000 tiles, and roofed about 110 houses. The company, an industry pioneer, created about 1,500 jobs, purchasing waste from community-led waste collection groups and training staff, mostly local youth, to work in the factory or to install roof tiles for customers. The products provide a lighter, competitively priced alternative to traditional concrete blocks and tiles, reducing transportation and housing-construction costs, and enabling safe collection of rainwater runoff. Mwanake credits the support of USADF with helping her launch and sustain her business.
The Kenyan government's recent prioritization of plastic waste recycling and affordable housing has boosted Hope and her business. Kenya's 2017 ban on the use, manufacture, and import of plastic bags, and 2019 ban on the import of plastic waste, have raised public awareness of the issue—and of Eco Blocks & Tiles' critical role tackling pervasive environmental and social issues in Kenyan communities. Mwanake is seeking to capitalize on this opportunity to achieve her ambitious goals of selling 1 million roof tiles by 2025, recycling 750 tonnes of waste, and creating 250 new factory jobs. She also hopes to establish Eco Blocks + Tiles as a reliable source of income for people in Gilgil and the surrounding region.
But the coronavirus pandemic is challenging her ambitions. Government-enforced travel restrictions have prevented roof tile installations, and many of Mwanake's clients have canceled their orders because of lost income. With no revenue, she cannot afford to pay her factory workers or waste collectors. In these stressful times, Mwanake has turned to her peers—the community of young entrepreneurs she met through her USADF grant—as vital sources of support and advice. She intends to weather the pandemic and envisions a future in which young people like herself, with the support of agencies such as USADF, lead the way in developing homegrown solutions to local problems in Africa.
Uganda
Francis Xavier Asiimwe
Kaaro Health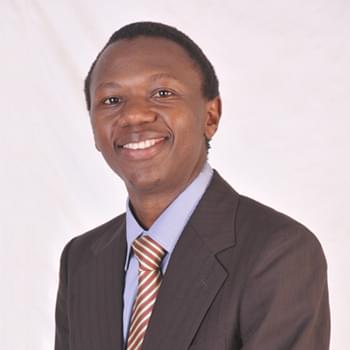 Expanding Health Care Access Across Rural Uganda
When Francis Xavier Asiimwe founded an agriculture start-up in rural Uganda, he had no idea that one of his biggest business challenges would revolve around health care. He quickly found that his employees were regularly forced to miss several days of work in order to seek basic, necessary health care. People living and working in Uganda's rural communities, including pregnant women, must travel long distances, over hours and even days, to reach the nearest hospital or health care center, resulting in absenteeism and lost productivity—not to mention further risk to health. Such long, costly journeys mean that many simply go without care, leading to preventable illness, injury, and even death. It was this loss of productivity and human life that in 2014 prompted Asiimwe to create Kaaro Health, a community health care enterprise that aims to increase access to medical care in rural areas.
In its earliest form, Kaaro Health partnered with existing health care centers to increase the services they were able to offer nearby communities, with a particular emphasis on maternal health care. The enterprise leased necessary equipment, such as ultrasound scanners, to small clinics, with the aim of reducing the number of visits to larger district or city hospitals. The business has largely focused on solar-powered equipment to overcome the challenge of unreliable energy access in rural communities. This aspect of the business continues to this day, as does a growing telehealth service that connects doctors and patients who are unable to travel, via phone and video calls.
In an effort to provide more direct, localized medical services, with the support of USADF, Kaaro Health launched an innovative new model for health care in 2017, building clinics inside shipping containers and deploying them in remote communities. The container clinics are staffed by a nurse and a lab technician from the local communities and operate on a lease-to-own basis that results in full community ownership, creating a model for medical care that is community-led and -owned. Asiimwe estimates that a container clinic can meet around 80 percent of basic and maternal health care needs on site, drastically reducing the number of people who need to travel to larger hospitals and the time and cost burdens of seeking care. He estimates that since 2017, Kaaro Health's nurses have completed over 120,000 clinic visits and facilitated over 8,000 births via 36 container clinics and an additional 40–50 partner clinics.
COVID-19 has been highly disruptive to Kaaro Health's operations. A combination of reduced incomes within communities affected by lay-offs and lockdown restrictions, and concerns over contracting the virus, have reduced daily visits and appointments dramatically. Asiimwe is worried about the future and particularly the impact of reduced clinic visits on rural communities, including poor maternal health outcomes and the severe effects of chronic diseases, such as HIV, that are usually manageable through regular, low-cost intervention. Despite these concerns, the pandemic has also provided opportunities for the business, as more people (both patients and health care providers) have become comfortable with telemedicine and have sought it out. Asiimwe intends to capitalize on and expand Kaaro Health's existing telemedicine platform. He also hopes to soon re-open sixteen clinics that have temporarily closed due to lack of funds and to continue the work of deploying new container clinics throughout Uganda and beyond.
Asiimwe describes the support he has received from USADF as transformational. In his view, the agency fills a necessary role in African development as it can ease pressure on the over-stretched Ugandan government by providing grants, training, and support that unleash the potential of young entrepreneurs like himself. That support is particularly important in the face of crises like the coronavirus pandemic, during which local entrepreneurs are among those best positioned to adapt quickly to changing circumstances and the needs of their communities.
Nigeria
Habiba Ali
Sosai Renewable Energies Company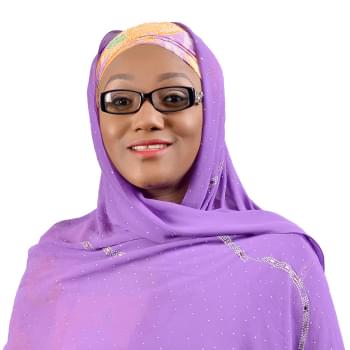 The Woman Continuing to Light Up Communities Across Northern Nigeria Amid the COVID-19 Pandemic
When Habiba Ali founded Sosai Renewable Energies Company ten years ago, her goal was to provide affordable solar lamps and clean-energy cookstoves to the women in her neighborhood in northern Nigeria. That's because, when operated indoors, kerosene lamps and cookstoves can have the same effect on the lungs as smoking. This indoor air pollution is a serious problem in developing countries across the globe, but especially in sub-Saharan Africa, where the majority of the nearly one billion people who lack access to electricity live.
Ali's business provides not only clean, renewable energy products to communities that need it most, but also a steady income to its all-female salesforce and the young people who install the appliances and infrastructure. Over the last decade, Ali has expanded her workforce by training her first customers—her friends and neighbors—and she now employs more than 150 female saleswomen and 200 youth, who install and maintain the equipment. Her products, which have expanded to include solar home kits, solar dryers, and mini-grids—which provide power to entire communities—have reached roughly 650,000 people across northern Nigeria.
In addition to Sosai's direct impacts, the company has had a multiplier effect on business activity throughout the country as increased access to energy has enabled customers to scale up their own businesses. Moving up the value chain, communities that have traditionally relied on subsistence agriculture can now also dry and process their goods, enabling their products to last longer and to be sold at higher prices, both domestically and internationally. In addition to stimulating local growth, the economic opportunities created by Sosai serve as an important defense against youth radicalization—a key concern in northern Nigeria, which is affected by ongoing attacks by Boko Haram and other violent Islamist groups.
Although the company has grown steadily over the last decade, Ali credits much of Sosai's recent success to the receipt of her first USADF grant in 2016, which funded the installation of two ten-kilowatt solar mini-grids, two solar dryers, and solar kiosks in Kaduna state, roughly three hours north of the capital city, Abuja. Through that project, Ali has been able to clearly demonstrate the benefits of expanded energy access, tracking the improved health and environmental outcomes and increased economic activity within those communities. She is utilizing that data to scale up her operations and expand the number of mini-grid projects she operates in the region
Having won another grant earlier this year for off-grid energy solutions, jointly funded by USADF and All On, Sosai is already moving forward to implement a new mini-grid and solar drier in rural Nigeria, which will provide the community with electricity and enable local pineapple producers to expand operations regionally and internationally. According to Ali, accessing this new financing and USADF's network of grantees and alumni has been instrumental in her success, helping her to spread the word about her work and mission and to raise the profile of her business within Nigeria.
In the face of recent challenges presented by the COVID-19 pandemic, Sosai is responding to the urgent needs of the community by providing critical resources, recharging the solar equipment of existing customers, and ensuring their continued energy access and connectivity. Beyond energy, Ali is also organizing her network of trusted saleswomen to distribute protective equipment, hand sanitizer, and public health information in rural communities across northern Nigeria, in partnership with the British government's Department for International Development.
While Ali has demonstrated success and has big ideas for how to help her community during this period, including by providing solar power to isolation centers in rural areas, she has been unable to secure funding for such projects so far. As a black woman, she still faces challenges gaining access to the same streams of development funding and equity investment as her male peers—challenges she continues to combat.
"I'm looking forward to lighting up more communities," Ali says. "I always tell people I dream of a day when I drive around communities, and I say, 'Oh, Sosai lit this, Sosai lit that.'"